The City that Exploded Slowly is an autobiographical photo-text series combining creative writing, family portraits and colour photographs of the centre of Beirut notably of Martyr's Square taken over many years .
Article in Contemporary French and Francophone Studies Journal: Leslie Hakim-Dowek (2014) The City that Exploded Slowly (2009)
When I was 5, my mother took me to a large department store, called Byblos, on Martyr's Square. She bought my first schoolbag there. I remember it well and I see myself holding it: its rubbery texture, rounded corners and black and white colours, all still tangible in my mind.
People in Beirut often wondered why this store never did well despite its incessant publicity. After the war and extensive excavations, it was discovered that the store's foundations had encroached on the very first walls of Beirut, Birut or Birayat as it was then called in 15 BC.
Some people thought that was probably the reason it was jinxed.

Martyr's Square stands at the heart of Beirut and was the threshold of many discoveries. I was taken there on many occasions, dragged by the hand by my mother or Marie. I always wanted to linger more and felt frustrated not being able to take in all that was banal and exquisite on display: wide-eyed dolls, bird-whistles, sewing-kits, flower garlands and plastic snakes all made in Taiwan. I would often fix intensely and then shut my eyes so the image would float inside my lids for a few seconds.
It was there, in my early teens, that I first tasted freedom. I have a vision of myself, often replayed, from a side-angle, wandering there with the whole square opening out: the deep shadows of the awnings, shop-keepers standing in doorways, a myriad of signs, cars gleaming under the harsh light of day. The square was a mass of friction and noise. I often walked, endlessly, making my way through the crowd trying to elude the gaze of others. I recall the distinct feeling of being elated. This is where, slowly feeling and knowing, that my timidity started receding.
I always had to go on deeper and deeper into the maze of streets. I strolled along each time combining different segments or levels in my itinerary. Something always spoke to my imagination. I often had the sense of stepping into an unknown land or wandering through an ancient labyrinth. I knew I would leave the city centre without ever fully discovering it. I enjoyed getting lost and always discovering something unknown.After I left, whenever I happen to visit a new town, I look for the edges where rusty containers are abandoned in disused car parks and where metallic fences contain explosions of tall weeds.
The city centre could have never been borne out of a blueprint, so unlinear and uncartesian it was, and that is why it was immensely fascinating and beautiful. It was fashioned over many springs and winters by a multitude of gestures, syllables and small wishes. This magical place is often summoned in my memory. The square is where the city began and where all converged and mingled. It couldn't be expunged from my psyche so embedded in the fabric of the everyday life it was and should have always remained there.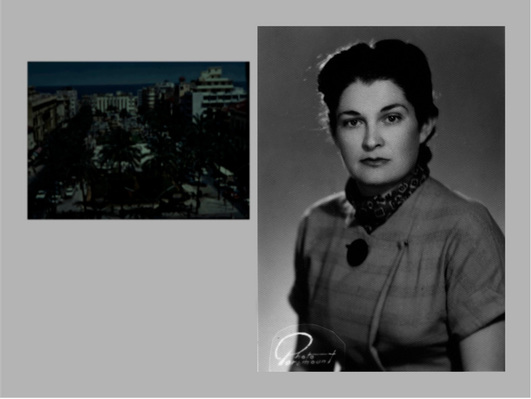 The war started there, at the very heart of the city. There were no distant frontiers or vast battlefields on plains where battles unfolded. It was among the carts, chairs, chandeliers and ladders that it all began to dissolve. Death arrived among all that noise, and the first mutation of Beirut was by fire. The rockets and bullets fell endlessly, swallowing all the minutes and sounds, reversing the imagery of the city centre into an abyss. The flashes of the Stalin's Organs replaced the glowing nodes of cars and buses. The cracked asphalt gave way to the wilderness that lay below. Only rabid dogs and rats roamed in this depopulated silence.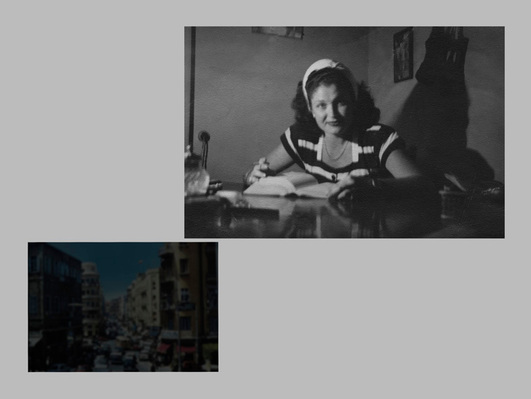 Terror melted all and left only waves of air among the stony walls. And bodies fell, by the hundreds and hundreds, among the metal cabinets and old mirrors, to a fate written in ashes. Among the living, the survivors are left dealing with absence and the constant corrosion of an incomprehensible fate. Along the green line, which divided East and West Beirut, traces of the hundreds who disappeared at checkpoints were erased by a tide of forgetfulness.
And dark bullets cut straight through the air. One could have reached her, while she was sitting on her bed doing the crosswords. Or could have reached him while he was listening to the radio. Rockets form parabolas and red taillights in the sky high in the clouds. They punctured many walls, dug many craters and some fell deep into the sea. One reached her as she was running to pick up the phone and she drowned inside herself with no voice and no throat. One of thousands who passed unnamed and unnumbered.
I often have to remind myself of Marie so I look at a photograph: her image preserved on a tiny square, a split second frozen from a distant time and space.I need to look at her anxious gaze and her image reassures me that she was there. I don't know what to think about heaven or hell but if there was a heaven, she should be there kind and silent.
The civil war lasted 15 years and ended with an uncertain peace. Some gave way to their desires to erase the city and the city that sparkled at night with thousands of lights was engulfed in a dark void. Each city carries an equation to transform itself: some will go through many strata of crippling history, some become missing cities while others rise vertically to become voracious forests of steel and glass.
With peace, the city centre has known another mutation: all signs of war have been removed to make way for a homogeneous ordered space. The crowds are regulated by barriers and soldiers and there are no street-sellers. Past strata of earlier civilisations are laid bare by the side of elegant restaurants. The layers of the city have been torn away, exposing nodes of history and memory that lay shattered under for hundreds of years revealing a pattern of calamities and invasions. Now, in the same space and time, you can observe a Roman patrician's house, a minister's tomb, the Ottoman Clocktower, the wares of Dunkin Donuts and Timberland. One of the last remaining buildings on Martyr's Square, the Opera Cinema, is now a Virgin's Megastore. What remains of the late Ottoman souks is a pattern recreated in the concrete slab of the car park.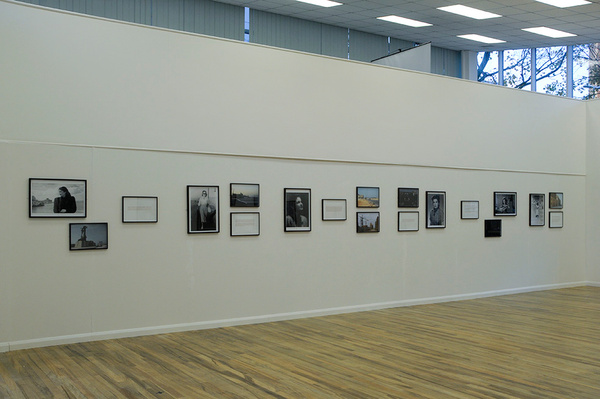 Installation Shot - SPACE, Portsmouth, UK
ABOUT THE CITY THAT EXPLODED SLOWLY
This photo-text series is an attempt to map out a personal 'archaeology' through a dispersed history encompassing the Lebanese civil war from 1975 to 1991, its aftermath and the many return trips, which have punctuated my life since then. A parallel is drawn between a personal tale and the many transformations of Beirut from a magical and chaotic place to a war-torn no man's land to finally become a sanitised space colonised by global brands.
The centre of Beirut was an ancient and complex place, the site of many missing cities, where all souls converged and wandered freely. I revisit and combine old and new photographs, including snapshots of my mother in old Beirut and the city through its many transformations, destruction and wilderness. Like my mother before me, our footsteps marked our own boundaries of that city and now, Beirut lives on in the space of our dreams and cannot be expunged from our cells.
Each of us has a city that lives on within us and has the value of our dreams.
ã Leslie Hakim-Dowek - 2009